Gamla stan
Deprecated: preg_replace(): The /e modifier is deprecated, use preg_replace_callback instead in /customers/e/1/1/sgcs.se/httpd.www/wp-includes/formatting.php on line 74

Walking tour in the Old Town 1.5 h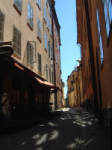 The history of Stockholm began almost 800 years ago on the Island today suitably called Gamla stan (lit. translated the Old Town). One can sense the spirit of the past when walking through the narrow alleys while looking at the medieval Hansiatic buildings with their decorated iron rods and tilted facades. A walking tour in the old town usually takes about an hour, however if one decides to include entry to some of the more popular sites in Gamla stan, such as the Cathedral, the German Church and the Royal Palace the tour will be considerably longer. Some of the points of interest usually covered are:
Slottsbacken with the Palace, Cathedral, Finish Church and the Mayor's Residence.
Stortorget, the Market Square, with the Stock exchange, the Medieval Houses.
The German Church, the German block.
Carl Larsson's residence.
Mårten Trotzigs gränd (the most narrow of all the alleys in Stockholm)
Järntorget (the iron square).
The old Federal Reserve.
Västerlånggatan.
Köpmannagatan.
Järnpojken (the Iron Boy – the smallest public sculpture in town).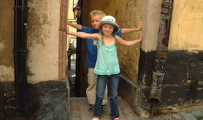 The visitor can expect to get a good insight into the reasons why Stockholm was founded and how she developed into the capital city of the Kingdom of Sweden. Your guide will also discuss the Royal family, its function and status in the Swedish society as well as some fresh gossip (usually quite appreciated). Furthermore you will have the opportunity to examine the topic religion in Sweden and the role of the Swedish Church, now and then. Your guide will also talk about life in medieval Stockholm which was a considerably harsher reality than today's urban existence.