Vasa Tour
Deprecated: preg_replace(): The /e modifier is deprecated, use preg_replace_callback instead in /customers/e/1/1/sgcs.se/httpd.www/wp-includes/formatting.php on line 74

Site tour - The Vasa Museum, 1.5 h
The Vasa is the world's best preserved 17th century war ship (she is 95% intact). Ironically, although being the pride of the Swedish fleet she sank on her maiden voyage in 1628 leaving the King, Gustavus Adolphus II, furious. 333 years later she was salvaged and after a long period of careful restoration she was put in her permanent museum on the green island of Djurgården where millions of people have come to visit her. A tour at the Vasa usually covers: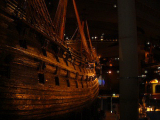 A general introduction of the historic context.
Specific technical info on the ship.
An introduction of the people involved in building the ship (statues).
Life onboard. Replica of the interior where visitors can stroll around on their own.
Items found on the ship.
People found on the ship. Reconstructed with the help of modern forensic techniques.
The stern of the Vasa, immensely decorated with Statues, symbols, etc. All with a specific meaning and purpose.
The Vasa tour aims at creating an intriguing journey into 17th century Sweden, its Government, people, industry, ideals, living conditions etc. It also gives the tourist an insight into ship-building, salvaging and preservation techniques. However, just seeing the Vasa in real life is quite an experience, 52m tall and 11m wide in her aged, black oak costume she makes quite an impression.