Tourist Groups
Deprecated: preg_replace(): The /e modifier is deprecated, use preg_replace_callback instead in /customers/e/1/1/sgcs.se/httpd.www/wp-includes/formatting.php on line 74



Stockholm Guide & Cruise Services offer high quality, tailor made programmes for tourist groups coming to Stockholm. Our profound experience of what the Stockholm region has to offer, assures a unique vacation experience.
Contact us for further information!
Tour sample: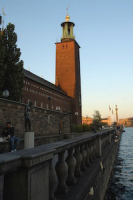 You start of early with a guided bus-tour to get a general overview of the city. After this orientation drive the City Hall awaits. The imposing City Hall was built in the 1920s and is most famous for hosting the Nobel Prize Banquet. It is also the home of the City Council. Having seen the City Hall, it is time to discover the oldest part of the city: the Old Town, where we take a break for lunch. A good opportunity to enjoy a traditional Swedish Smörgåsbord!
After lunch your guide will show you the alleys and buildings of the medieval Old Town such as the Royal Palace and the Cathedral (Storkyrkan). After having walked through the old town a ferry ride to the Royal Animal Garden (Djurgården, the National City Park) awaits. You will have the opportunity to visit the famous Vasa Museum and the world's first Open Air Museum (Skansen), with the typical Swedish country homes of the 17th-19th century. You will have the opportunity to stroll among the native Swedish animals such as the elk, the wolf, the utter etc.., and if you so desire, dance a Swedish frog dance as a final touch to a day filled with new experiences.