Private Sightseeing
Deprecated: preg_replace(): The /e modifier is deprecated, use preg_replace_callback instead in /customers/e/1/1/sgcs.se/httpd.www/wp-includes/formatting.php on line 74

Your way to the ultimate Stockholm experience! Stockholm Guide & Cruise Services offer tailored guide services to fit your specific needs and requirements. Let us help you to put together your dream package.
Our professional guides will lead you through Stockholm, the past and the present, with genuine enthusiasm and profound knowledge.
We offer a wide variety of tours in categories such as shopping, adventures, history, nature, architecture, culture and nightlife.
Let us make your Stockholm visit into an unforgettable experience!
Tour sample, Royal River Cruise: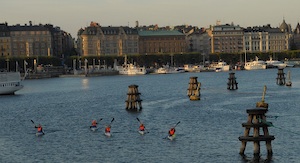 Stockholm is a city built on islands, surrounded by water. Sometimes it is referred to as the Venice of the North. You start off the day with a boat tour (in a mid-size pleasure boat). Cruising under the bridges of Stockholm your guide will explain to you the significance of the sights that we pass. After approximately one hour you will arrive at the Royal Palace Drottningholm, where the Royal family resides. This palace is like a Versailles in miniature, lavishly decorated with original interiors dating back more than 300 years. Drottningholm also holds a vast baroque Park as well as a wonderfully lush and intriguing Landscape Garden. Hidden in the park is also a Chinese Palace. This Palace was an anniversary gift of the Swedish king Adolf Fredrik to his wife Lovisa Ulrika. Built in the 18th Century it contains some of the finest Chinese handcraft imaginable, i.e. original Ming vases, drawings and sculptures.
There is also an original royal theater located at Drottningholm. This theater was rediscovered in the 1920s after having been forgotten and used as storage for 200 years! Upon its discovery it was carefully restored and to the delight of the court it now hosts some of the most prestigious musical performances in Sweden today.
After having seen the theater you will be taken to nice floating restaurant. After the restaurant you continue your journey on the water, exploring more of the sights that can be seen. Among these sights is, for instance, the most recent residential addition to Stockholm's geography, Hammarby Sjöstad. This is a State of the Arts functionalistic suburban area. Built on the water, it represents the modern, environmentally friendly Stockholm.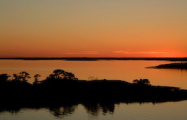 Leaving Stockholm for the archipelago, with its more than 32,000 islands, we head for the most exclusive of the suburban areas outside of the city, Lidingö. Lidingö hosts one of the finest sculptural museums in Europe, Millesgarden. Millesgarden was the personal home of sweden's most famous sculpturer Carl Milles. Milles created his home on a cliff at Lidingö, and decorated it according to his dreams. It is his life work and a realization of his views on architecture and design. Carl Milles lived and worked in Cranbrook for many years and public sculptures by Milles can be seen all across the United States. At Millesgarden there is a Café where we can enjoy a last refreshment before heading back towards the ship.